12.05.2011 new
Sorry about not updating the website for so long!
Naoko and Max's newest animation project is in production! We've shot most of the stop-motion footage but there are a lot more hand draw animation to do to finish the project. Here are some stills:


Max is currently studying Film at FAMU in Prague, Czech Republic. Here is one of his recent short film he made in Prague, "First Kiss".
Check out the animated wedding video Naoko made for her friend Momoko in Japan.
Have you seen Max and Minka's Music Video "Animal" for an indie rock band Kickdrums? Not yet? Watch it right now!

Kickdrums Animal (music video).
04.10.2009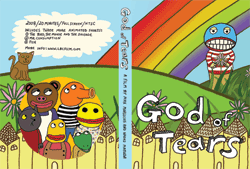 "GOD OF TEARS" is available to purchase on DVD for just $15 which also covers shipping ($18.50 for international orders)!
The cover was immaculately designed by Philadelphia-based artist Gregory Pizzoli. The DVD includes three other animated short films: "The Bird, the Mouse, and the Sausage", "Fish", and "Mr. Consumption". Paypal required for purchase.